Anji Chaoya Furniture Co., Ltd. was established in December 1996 and is located in Anji, Zhejiang, a beautiful bamboo town in China. The company occupies an area of 45,000 square meters, a plant construction area of 36,000 square meters, and more than 600 employees. It is the first enterprise in our province to specialize in the production of foreign trade office swivel chair series. The annual sales income is 400 million yuan, and the products are mainly exported to Europe, America, Asia-Pacific and other countries.
The company accepts and passes the factory inspections of social responsibility, anti-terrorism, quality and other aspects of STAPLES, OFFICE DEPORT, COSTCO, WALMART and other companies every year. In the cutting, sewing, punching, packing and other processes, a lot of automation equipment is used to further improve product quality, improve labor efficiency, and save labor costs.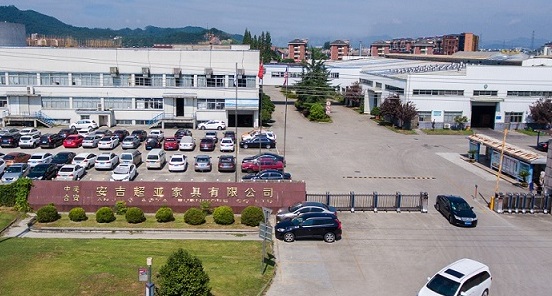 Companies adhering to the "innovation concept, the pursuit of excellence, rapid improvement, sustainable management" business philosophy, alw-ays adhere to product quality is the cornerstone of enterprise development, strict implementation of ISO9001, ISO14001 management system standa-rds and certification. The company's existing 40 inspection personnel, from raw materials, semi-finished products to finished products, strictly control the quality of each link, and effectively prevent it first. The company's products implement the US ANSI/BIFMA5.1, European EN1335, EN12520 testing standards, in line with QB/T 2280-2007 national office chair industry standards, the products have passed the standard tests of BV, TUV, SGS and other third-party global authorities. The company's internal office chair testing laboratory testing capabilities cover BIFMA, EN1335, EN12520 and other sta-ndards of safety, structure and durability testing. It is an internal testing organization with integrated testing and scientific research.